SmartDrivingCar.com/11.02-Buffalo-011223
2nd edition of the 11th year of SmartDrivingCars eLetter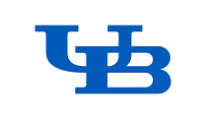 RFP NO. 22DBM0071 BUFFALO INTELLIGENT TRANSPORTATION SYSTEM FOR THE UNDER SERVED (ITS4US): SELF-DRIVING SHUTTLES
S. Still, Jan. 10, Project Overview: University at Buffalo is issuing this Request for Proposals (RFP) to solicit proposals from qualified firms to provide self-driving shuttle vehicles and operations in the Buffalo Niagara Medical Campus and surrounding neighborhoods. The project is funded by the US Department of Transportation as part of its ITS4US program.
Proposal Date/Time:
February 1, 2023 2:30pm EST. Proposals received after the specified time will not be accepted.
The Request for Proposals (RFP) documents are available now by registering through this link: https://www.nyscr.ny.gov/adsOpen.cfm Questions can be addressed to David Markey, Senior Buyer, at dbmarkey@buffalo.edu. …." Read more Hmmmm… I love what Dr. Steve Still is trying to do in Buffalo. All the best. Alain
---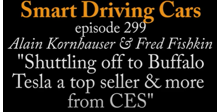 SmartDrivingCars ZoomCast 299 / PodCast299
"F. Fishkin, Jan.12, ""Episode 299 of Smart Driving Cars rolls in with Buffalo advancing plans for autonomous shuttles, Tesla becoming the number one luxury car brand in the U.S., concept self driving cars plus interviews from CES with Holon and Ottonomy. Join Alain Kornhauser and Fred Fishkin for the ride. Thanks to Ken Pyle and Dr. Elizabeth Monroe.
0:00 open 1:14 RFP for self driving shuttles in Buffalo 2:41 ZF unveils next gen shuttle 8:46 WSJ report on concept self driving cars 10:50 Tesla headlines top luxury brand in U.S. and more 17:56 CES Holon interview courtesy of Ken Pyle 31:30 Alain comments on Holon 32:30 Intro to CES Ottonomy interview 49:39 Alain comments on Ottonomy
fishkin@techstination.com 732-928-4691
Technical support provided by: CARTSmobility.com a 501c3 dedicated to Safe & High-Quality Mobility for All. Tax-deductible donations are most appreciated @ Support CARTS' mission to provide safe & high-quality mobility for all
---

Save the Date:
6th Annual Princeton SmartDrivingCar Summit:
Tuesday Evening, May 23 -> Thursday 5pm, May 25, 2023
*******************************
52nd Annual
Princeton University Transportation Program
Friends & Reunion Banquet
in conjunction with the 103rd annual
Transportation Research Board (TRB) Meeting in Washington, DC
TUESDAY, January 9, 2024
Tony Cheng's Seafood Restaurant
*******************************

Zoox – Slow and Steady Road to Autonomy – #CES2023
K. Pyle, Dec 12, "The fable goes that the tortoise beat the hare in its race by its slow and steady pace. Slow and steady is the approach that Zoox is taking to achieve safe and sustainable autonomous mobility. In the above interview, filmed at CES2023, Paul Escobar, Senior Public Policy & Safety Strategy Manager for Zoox, describes how they are designing a vehicle around the needs of passengers.
To be clear, Zoox's vehicle will be part of a ride-hail service and won't be available for purchase. The business model includes shared passenger rides, effectively reducing per passenger cost and vehicle miles traveled (VMT), compared to the human-driven ride-hailing services.…." Read more Hmmmm… Ken, Very nice to see the progress that Zoox is making Alain

A New Spin On Rideshare and Carshare -#SDC2022
K. Pyle, Dec 11, "As 2022 ends, autonomous technology which lowers the costs of and improves the quality of mobility is still just a promise. Fundamentally, technology must serve the needs of those who will use a given mobility solution. By starting with humans at the center of its efforts, Carolina RIDES+ is providing a foundation for understanding how to automate in the future while beginning to serve its goal of "providing transportation to those in need…"
With its rollout of RIDES (Real-time Integrated Data-driven Electric Shared-services), Carolina RIDES+ has begun delivering mobility to those who otherwise could not get to a job, the store, the doctor, or the other places that those of us with a car take for granted. With a goal like the TrentonMOVES effort in New Jersey, Carolina RIDES+, a 501(c)3 public benefit non-profit organization, aims to "provide mobility options, alleviate the financial burden for low-income households, reduce pollution, and boost economic development."…." Read more Hmmmm… Very nice. Alain

Automotive Grade Autonomous Electric Shuttle – #CES2023
K. Pyle, Dec 11, "With double wishbone suspension, a premium interior, and a cabin that attenuated the din of the CES2023 crowd, HOLON's autonomous electric shuttle promises a comfortable ride for up to 15 passengers through city streets. The HOLON mover is purpose-built to move people in fixed geographic areas with speeds limited to 37 MPH (60 km/h). As Dr. Alain Kornhauser observes in the above interview, it is the type of vehicle that is ideal for TrentonMOVES and other similar community-specific on-demand transportation networks.
00:21 – Gregory Crandell provides an overview of the vehicle 01:28 – Dr. Alain Kornhauser comments on how it could fit with TrentonMOVES 02:50 – The vehicle can be set up for fixed route or on-demand transport 04:02 – It is a right-sized vehicle that could supplement existing transit systems 06:44 – This is an automotive-grade vehicle 07:00 – Crandell indicates their focus is on Total Cost of Ownership. Kornhauser suggests with high-utilization, the capital costs of the vehicle will be de minimis. 08:57 – Build for inclusiveness was a take-away from the SmartDrivingCars Summit. This also means increased comfort. 11:38 – Late 2025 for volume production 12:17 – Like TrentonMOVES, Crandell expects attendants in the car in the initial deployments. These attendants will be more about customer education and comfort, as opposed to driving. 13:07 – Unfortunately, our "ride" ended. The conversation will have to carry on at another time."…." Read more Hmmmm… Also very nice. Alain

SAFE Says Automakers Should Share Autonomous Vehicle Test Data
K. Dennehy, Jan 11, "In order to grow the burgeoning autonomous vehicle (AV) industry, automakers should share test data, according to a new report released at the recent CES technology show. The report's authors, the Commission on Autonomous Vehicle Testing and Safety, a project of Washington-based Securing America's Future Energy (SAFE), also contends that data sharing will also make roads safer for self-driving cars.
"We all know things work the smoothest when industry comes together and develops industry norms. In this case, given the nature and complexity of the technology, we felt very strongly that the commission encourages formally collaborating on technical data," said Cuneyt Oge, SAE International president and commission member. "This is a big one. Every provider is doing its own proprietary development to keep data to themselves as they see it's a competitive advantage. That data will have to be shared somehow." …" Read more Hmmmm… A resounding Yes!! Been saying it for a long time. We should cooperate on safety! Safety should be exempt from anti-trust and collusion regulations/laws. A no- brainer! Alain

ZF shows new-generation autonomous Level 4 shuttle in Las Vegas
B. Krivevski, Jan 9, "ZF unveils its next generation shuttle for autonomous driving in urban environments and mixed traffic at the 2023 Consumer Electronics Show (CES) in Las Vegas. The next generation complements the established model, which is primarily designed for use in segregated lanes.
For the new shuttle generation ZF announces a strategic partnership with U.S. mobility services provider Beep, Inc. The agreement aims to deliver several thousand shuttles to customers over the coming years, combining ZF's ATS with Beep's mobility services and service management platform into a single-source autonomous mobility solution.
"In order to reduce traffic-related emissions in metropolitan areas, a reduction in motorized individual transport and a simultaneous expansion of more sustainable, efficient, comfortable, and affordable mobility options are required," says Torsten Gollewski, Executive Vice President, Autonomous Mobility Systems at ZF.…" Read more Hmmmm… Great, but seems big for mixed traffic. As I see it, the opportunity for driverless technology is the achievement of scale through Moore's law economics… get one to work, replicate it and unit costs decrease monotonically with scale. If the demand is small, then unit costs can't decrease very much; thus, one must go after a volume business. Travel demand is enormously diffuse in time and space. While there are notable concentrations in time and space that can be well served by large vehicles, these are few and far between – else the ridership in conventional public transit in the US would be substantially more than small single digits.
The quality of the supply side that serves travel demand deteriorates substantially when it requires artificial concentration of the diffuse demand in order to fill its vehicles. Smaller is better, especially when automation's flexibility readily allows it to be deployed to best serve the diffuse demand rather than requiring the demand to respond to supply-side constraints such as fixed routes and fixed schedules. Thus vehicles should be smaller rather than larger and service (departures & routes) should respond to demand. Ride-sharing should, of course, be encouraged and accommodated, but the vehicle maximum capacity should be no more than the 90th percentile of the expected demand-responsive departure occupancies for the systems Total Addressable Market (TAM). (Meaning… 90% of the departures can be served by a single vehicle., The remaining 10% will need a second or possibly even more vehicles simultaneously departing vehicles to serve the tail of this demand curve.)
Remember, efficient demand responsive service in normal transit-oriented communities has, at best, roughly 30% of the vehicle miles consumed by "empty-repositioning", another 30% with one occupant (plus anyone else tagging along with that occupant, 20% with 2 independent travelers (and their tag-alongs), 10% with 3, 5% with 4 and 5% with more than 4. Consequently, a 6 or 7 passenger vehicle is more than large enough. Alain

Extending the Shopkeeper's Reach with an Unattended, All-Wheel Drive Robot #CES2023
K. Pyle, Dec 11, "With the introduction of the Ottobot Yeti, Ottonomy is helping shopkeepers, grocery stores, and restaurateurs extend their business into their respective neighborhoods. These modular four-wheel drive electric robots allow for the delivery of goods in snowy and icy conditions that would make it difficult for even the most spry among us to navigate. This latest generation robot from Ottonomy even allows the unattended delivery of packages to lockers.
Some of the possible uses:
mail delivery (already tested in Norway)

Deliveries for that time when you are ready to eat your morning cereal and you discover there is no milk in the fridge (these all-seeing and quiet droids could deliver in the middle of the night when few are on the road).

Movement of goods from inside the store to the curbside/parking lot (a sort of dynamic conveyor belt)
In the above interview, Princeton Professor Dr. Alain Kornhauser and Ottonomy CEO Ritukar Vijay touch upon some of these various use-cases for these flexible autonomous delivery vehicles….
00:14 – Vijay introduces the Ottobot Yeti and its unique feature of auto dispensing
00:51 – The Ottobot Yeti's maneuverability, modularity, and ability to pivot 360 degrees impressed Dr. Kornhauser. This design can serve both inside (warehouse) and outside applications (neighborhood deliveries).
04:14 – Ottonomy's team has roots in warehouse and vehicle automation.
05:10 – There first commercial deployments were in airports (see this Viodi interview with Vijay from CES2022).
05:49 – The auto dispensing feature is for that time when a human is not around to pick up a delivery.
06:30 – Ottonomy supports the efforts of the Urban Robotics Foundation in creating an ISO standard for managing human-machine interactions on sidewalks and associated public spaces.
07:15 – Their work with the Norway Post proves these things can operate for long-last mile delivery. The snowy and icy conditions would prove formidable for the average person.
08:16 – The discussion shifts to TrentonMOVEs and whether this might be complementary to its goal of providing affordable and accessible mobility.
10:32 – Helping alleviate the labor shortage by allowing a business to leverage its workforce is big part of Ottonomy's value proposition.
13:05 – It is a function of distance, but the rule of thumb Ottonomy is using is that 5 to 8 deliveries per hour are necessary to prove-in the business case for their solution. As Kornhauser points out, the autonomous and modular nature provides flexibility in how these are deployed, which may be the most important thing in discovering business cases that work.
"…." Read more Hmmmm… Also very nice. The last 50 or so feet tends to be the toughest for package delivery Alain

The Puppy Dog Rental Car – A Bridge to Autonomy
K. Pyle, Jan 7, "Once upon a time, an enterprising car rental business shook up the car rental industry by delivering the vehicle to the customer. It was no longer necessary for the customer to find someone to give her a ride to an often inconveniently located car rental lot across town. With this model, the car rental lot could be located virtually anywhere. This meant it would no longer have to be located on an expensive on-site car rental lot. Presumably, the cheaper land would make up for the added expense of sending two cars and two employees to each customer's location.…." Read more Hmmmm… This is a substantive deployment of remote driving. Alain
<![if !vml]>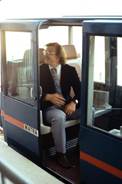 <![endif]>

What's old is new. 50 years later
Tweet, "What's old is new. 50 years later, we're going to try Aramis again (except with much, much uglier vehicles)…" Read more Hmmmm… The missing imageJ . Alain

You May Be Able to Buy a Self-Driving Car After All
S. Wilmot, Jan.6, , "A year ago, investors were wildly optimistic about the potential of automotive technologies such as automated driving. They now risk swinging to the opposite extreme.
Anyone looking for an idea of the cars that might be on sale in five years' time likely found the news from this year's CES in Las Vegas more muted than usual. Stellantis showed off new concept electric vehicles on Thursday, including a highly anticipated Ram pickup truck, but in reality it is playing catch-up with peers such as Ford and General Motors. Sony unveiled a brand for its new automotive joint venture with Honda, Afeela, but didn't give many details of the much-hyped EV they expect to start selling in North America in 2026.
As Stellantis Chief Executive Officer Carlos Tavares pointed out in his keynote speech, more than $1 trillion of market value was wiped off automotive technology stocks last year. This isn't just about Tesla: Shares in early-stage companies that don't make profits have been even worse hit. That makes car makers understandably reticent about putting too much weight on—or money behind—the gizmos CES is best known for. Autonomous vehicles, the focus of much futurism in the industry, have taken a public beating, particularly since Ford and Volkswagen in October pulled the plug on their driverless-taxi joint venture.…." Read more Hmmmm… The emphasis is on the "maybe". If Self-driving is what I call Self-driving, then you can buy one and many others are buying one today. If Self-driving is Driverless, then don't hold your breath. Alain

Tesla Files For New Texas Expansion + China & Europe Updates
R. Maurer, Jan 10, " 0:00 Intro 0:59 Texas expansion 2:35 4680 Model Y 3:59 China sales and production 6:31 China insured vehicles 8:36 Order rumor 9:17 VP discusses price cuts 13:04 Supercharging prices 14:18 Tesla participates in mobility summit 15:06 EU sales highlights 15:32 GM asks for EV credit reconsideration 16:38 Boring Company / Tesla…." Read more Hmmmm….. Interesting, especially the update on the Boring Company. Alain

Tesla becomes top luxury auto brand in the US
F. Lambert, Jan. 11, "Tesla has become the top luxury brand in the US automotive market – the first time an American automaker claims the title.
For a few years now, Tesla vehicles have dominated many luxury segments in sales in the United States.
However, due to the limited number of models available, four to be exact, other automakers could still be top sellers overs – meaning that Tesla models are often best-selling in their own segments, but Tesla as an overall brand is not.
Foreign automakers, especially German automakers like Audi, Mercedes-Benz, and BMW, have historically been dominant.
But with recent increases in production capacity, Tesla is now delivering more volume in the United States even with just four models.
…." Read more Hmmmm….. So bad!! Alain

Tesla vehicles moved almost 100,000 people inside Boring Company tunnels at CES
F. Lambert, Jan. 11, "Tesla vehicles moved almost 100,000 people inside the Boring Company tunnels under Las Vegas in only a few days during CES last week.
The Las Vegas Convention Center Loop is The Boring Company's first full-scale loop project currently in commercial use.
Elon Musk's tunneling start-up completed the $50 million project in just over a year.
A Boring Company Loop system consists of tunnels in which Tesla electric vehicles travel at high speeds between stations to transport people within a city.
While the ambition is to have complex tunnel systems underneath entire cities, the Las Vegas Convention Center Loop is only 1.5 miles long with three stops. The company also added a stop at the Resorts World's hotel and casino, which is one of the closest ones to the convention center.
Last year, The Boring Company obtained approval to expand the Loop to the whole city with 29 miles and 51 stations planned in Las Vegas.
But while it is expanding the tunnel network, it is operating in what is commonly referred to as the LVCVA Loop – the system had a big week with CES last week, which is often attended by over 100,000 people in just a few days.
The Boring Company has now released some data about the performance and confirmed over 94,000 passengers travel in the LVCVA loop. The company also said it moved over 10,000 passengers to and from Resorts World.
The company also said that the rides were, on average, less than 2 minutes, and the average wait time to get a Tesla vehicle was less than 10 seconds…." Read more Hmmmm….. I'd love to know the extent of ride-sharing that was accomplished!! My guess is that it was close to 3.0 not counting the driver. Anything over 2 would be absolutely fantastic. I doubt that Uber/Lyft/cabs were that efficient. It continues to amaze me that, even during CES, the essentially zero attempt by Taxis/Uber/Lyft to share rides. Everyone is left standing in long Taxi/Uber/Lyft lines paying hefty markups to be served, while no one is making any effort to accommodate others standing in line who are going to the same place or the same direction to jump in and fill empty seats.
Faced with an impossibly long line, I did the obvious, logical thing and plead to a couple getting in a Lyft going to the airport asking if Elizabeth and I couldn't also get into this massive SUV with them to jail-break out of the North Halls area. They lovingly said "hell, yes!" and the driver was amenable. We jumped in, met a wonderful couple, got out of there, helped the environment, reduced congestion, and tipped the driver very well. Everyone happy!! J Alain

EXCLUSIVE: SURVEILLANCE FOOTAGE OF TESLA CRASH ON SF'S BAY BRIDGE HOURS AFTER ELON MUSK ANNOUNCES "SELF-DRIVING" FEATURE
F. Lambert, Jan. 11, "HIGHWAY SURVEILLANCE FOOTAGE from Thanksgiving Day shows a Tesla Model S vehicle changing lanes and then abruptly braking in the far-left lane of the San Francisco Bay Bridge, resulting in an eight-vehicle crash. The crash injured nine people, including a 2-year-old child, and blocked traffic on the bridge for over an hour.
The video and new photographs of the crash, which were obtained by The Intercept via a California Public Records Act request, provides the first direct look at what happened on November 24, confirming witness accounts at the time. The driver told police that he had been using Tesla's new "Full Self-Driving" feature, the report notes, before the Tesla's "left signal activated" and its "brakes activated," and it moved into the left lane, "slowing to a stop directly in [the second vehicle's] path of travel."…." Read more Hmmmm….. Time out! The rear footage shows me that the sequence is: the right turn signal on, then the left, then the initiation of the lane change, then the brake, then completion of the lane change, and finally the hard brake to a full stop. All over a period of 5 seconds (which is plenty of time over-ride an automated system).
Something else was going on here other than phantom braking. Was the driver confused? Why the original left turn signal? Did the driver miss the left exit? Did the driver sense a problem with the car and wanted to get to a break-down lane? Did he think the left most lane was a break-down lane? Did the Tesla think that the left-most lane was a break-down/ shoulder lane? Doesn't seem like "phantom braking". Alain

Briefly: NTSB extends its existing Most Wanted List into 2023
Staff, Dec. 29, "​​​​​​​​​​​​​​​​​​​​​​​​​​​​​​​​​​The NTSB's Most Wanted List (MWL) highlights transportation safety improvements needed now to​ prevent accidents, reduce injuries, and save lives. We use the list to focus our advocacy efforts during the current MWL cycle.
The NTSB urges lawmakers, industry, advocacy and community organizations, and every American to learn more about what they can do to implement ​ and champion the 2021-2023 MWL. Adopting NTSB safety recommendations associated with these safety ​​​​​items will save lives. The National Transportation Safety Board recently called for a renewed effort to implement safety recommendations on its Most Wanted List of Transportation Safety Improvements.
The NTSB's current Most Wanted List, issued in 2021, consists of 10 areas where safety can be improved by implementing open NTSB recommendations. The current list, which serves to focus the agency's congressionally mandated advocacy efforts, has been extended through 2023.…." Read more Hmmmm….. Yup!! Be sure to read: National Transportation Safety Board Evaluation of The US Department of Transportation 2021 Report to Congress on the Regulatory Status of the Safety Issue Areas on the National Transportation Safety Board's Most Wanted List May 2022
Alain
---